As a teacher we are role models to many little people and families who are constantly looking up to us and watching what we do. Teachers are often held to very high levels of professionalism due to the profession that we are in. I thankfully realized very early in my career just how important it is to always present myself in a professional manner in public as well as on any social media platforms.
As a teacher I have come to realize that there is a very thin line between my personal life and my professional life. I have always tried to be very mindful of what I am posting on my social media sites as I know that these sites can be accessed by my employer,  my students families and also my students. I realize that because of my profession my personal social media identity is also my professional social media identity.
Photo Credit: Davis School District
I have always taken my social media identity seriously and been mindful of how I am represented online. That being said Lindy made a great point in her blog post  To be or not to be… Digital Identity about the impact others can have on your social media identity. She makes reference to how we as teachers generally work so hard to create a positive social identity but what happens when someone tags you in a photo that you prefer not to be on your page? As a professional I think that it is very important to be aware of the settings on your social media sites and ensure that the privacy settings are set to protect you. I have had my Facebook account set so that others cannot tag me in photos and posts to ensure that the only footprint I am creating online is one controlled by myself. This will prevent one from being put in an awkward position by someone else and can potentially save you from any professional misconduct.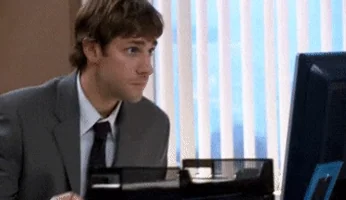 Credit: Giphy
The article Privacy and Digital Identity is a great resource  I found online that discusses different aspects of a teachers social media identity. The article shares the following questions for one to consider and discuss with other teachers about your professional social media identity:
What are some things teachers can do to manage their digital identities effectively?
Can you think of any tools teachers could use to help maintain privacy?
How can teachers control what is made public, and what is not, when they are online?
And how can teachers be active online and connect with others in their profession, while maintaining their professional reputations?
I think these are all great questions for teachers to consider about their online identity. I feel that these would be great questions to discuss during professional development time at your school to have a conversation with others around the topic of professional social media identity. Similar to what Ashley shared on her blog post as ideas to develop your professional identity this article shares tips that teachers can follow to manage their Professional Digital Identity.
Photo Credit: Managing Digital Identity
As a teacher I am also responsible for helping my students build a positive social media identity. Within my classroom we have been discussing our social media footprint and how that footprint is permanent and follows you around forever.  I think that it is crucial for teachers to take the time to teach about media identity within their classrooms before students have already started to create their own media identity. This way we can help our students be aware of the implications of posting on social media sites. This is a short video that I shared with my class to introduce what the term Digital Footprint means.
I am currently teaching in a grade 4 classroom and many of my students already are talking about different forms of social media. I know that it is important that we address both cyber safety (USC4.4) and identity (USC4.5) which both can be found within the Health curriculum found at Saskatchewan Curriculum Grade 4 Outcomes and indicators. This year we will explore ways to be safe online as well as what does the word identity mean within social media. Miss Kyritis provides the 5 P's for helping students create a positive digital footprint.
Moving forward I plan to visit all of my social media sites and do a purge of any information that I feel needs to be removed from my sites. I also plan to review all of my privacy settings to ensure that nothing has changed and that they are set to protect my social media identity. I plan to keep my twitter account strictly professional and for professional development and sharing only. As Colleen stated in her post Taking Control of my Digital Identity twitter is a great resource as a teacher to help stay abreast the changes on social media to help stay current.
Thanks for stopping in!