In the month of October Seesaw launched a new feature: activities. This feature allows teachers to send students activities to do on their Seesaw accounts that the students can complete and post to their journals. I really like this feature as it allows teachers to prompt their students to demonstrate and explain their learning to share with their families. This week my grade 3/4s wrapped up another math unit so I felt like this was perfect timing to create an activity to send home a "Show what you know" example!
I had in mind two specific activities that I wanted my students to complete. I wasn't really sure where to start with creating the activities so I thought I would check out the app first. I went on the Seesaw app and had a look at the pre-made activities Seesaw has for teachers to share. This helped me get some ideas on how to set my activities up. One thing I found helpful was it gave me ideas on to how to simplify the instructions and keywords my instructions should include for students to best understand how to demonstrate their work. This picture is an example of an activity on Seesaw for my grade level that with one click be shared with students. I used this as a guide to see how they broke down the instructions to clearly explain to students what steps they will need to complete to demonstrate their learning and share their work on their journal.
Photo Credit: Seesaw  
Once I had a look at the examples that Seesaw had already created, I decided what I wanted to create and share with my students. Even though Seesaw is really user-friendly I wanted to be sure that I fully understood how to create and share the activities properly so I first checked out the Seesaw help center and found a helpful article called "How Do I Use Activities?" This page gave me easy to follow step by step instructions on how to create an activity to share with my students. This is why I love Seesaw so much–  for every question it provides step by step tutorials, videos and images on what seems like everything!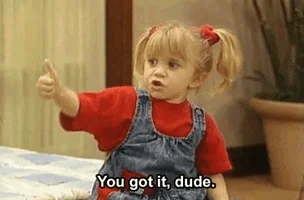 Gif Credit: Giphy 
Once I felt like I had the basics I was ready to create a few math activities for my students to complete. The one problem I came across was I wasn't sure how to add the images for the directions that Seesaw had added in their instructions. I then remembered a friend had tagged me on twitter a few days ago with a link to an explanation to this! I love that my friends who are not in this class are also looking out for me in my Seesaw journey! I also love how I can easily look back on my twitter account to that tweet and find the information she tagged me in! Thanks to my girl Nicole Reeve for always looking out for me!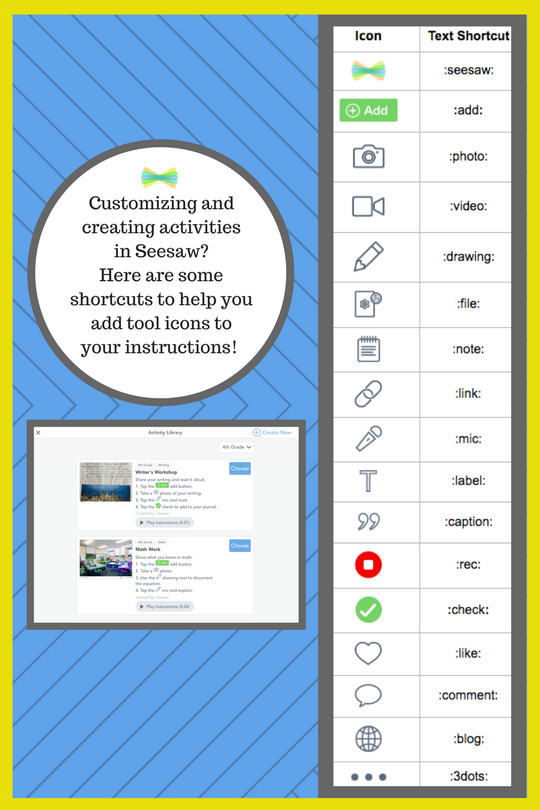 This tweet leads me to the exact information I was looking for which was to find the shortcuts I can use to add pictures in my instructions while creating new activities. Once again this led me back to the Seesaw help center and to an article titled "Seesaw Icon Shortcut" which was exactly what I was looking for! These shortcuts allow teachers to insert the icons into the instructions which help the students easily identify what steps they are expected to complete for the task. This helps provide the students with a visual of which tools they need to use while reading the instructions. This is great for elementary students who are learning to read! You can find the full complete list of shortcuts here.
The following are the two math activities that I shared with my students to complete. Both of these tasks are familiar tasks from their weekly assignment that I took a picture of for them to show their work on and share with their families. I wanted to provide them with work that they were familiar with so they could practice the process of doing work on Seesaw and using the record button to explain their thinking. I am very excited to see  their work and most excited to listen to their explanation of thought process to these questions.
I can't wait to see how my students work through these activities this week! I am so excited that I finally added some activities for them to complete. I have said it before and I will say it again how impressed I am with how user friendly this is. I really appreciate how much support Seesaw provides teachers to help them quickly learn how to implement something new. As teachers, we all know we don't have an extra minute in the day so I really appreciate this! My new found love this week was the Seesaw help center and how you can type anything in the search engine and step by step instructions as well as illustrations and videos pop up to help provide you with a tutorial.
Seesaw, my friends, check it out! What are you waiting for?!