Just a quick little update on what we have been up to the last week with

Seesaw

! We just wrapped up another math unit and the students have been working on adding using carrying. Each student had the opportunity to show their parents what they have been working on during this unit. I asked students to use any of the tools on Seesaw that they would like to in order to complete the tasks and demonstrate their learning. I proposed three adding equations and I asked students to show how they figured the question out as well as record their thinking to explain how they solved each question. Below are three examples of students using Seesaw to demonstrate their understanding of adding with carrying.
I really enjoy how Seesaw allows students to demonstrate their learning in different ways. I love how user-friendly this program is for the students. These student videos were made with zero teacher guidance. The students independently figured out how to illustrate their equations and also figured out how to use the drawing feature to explain their thinking while doing their recordings.
I really enjoyed hearing them share their thinking. As a teacher, it is not often we get to hear the thought process going on inside of our students' mind. I recently read about a question prompt that I have been using with my students.It is, "Explain to me how this answer makes sense to you". I have found this prompt to be a great conversation starter as it encourages students to share their thinking. I feel that the recording option on Seesaw is a great way to have students verbalize their thought process and how they came to an answer. I really enjoyed listening to their responses and I feel that it gave me a lot of valuable information in accessing their understanding of this math outcome!

I am still working on launching the new activities feature that I wrote about in my blog post last week. I shared two activities with my students but unfortunately, the Ipads in my classroom needed the app update and that hasn't yet been completed. I have contacted our tech department and they should be updated this week. I am excited to work with that new feature once my Ipads are updated. I want to continue to work towards being able to use this app to its fullest potential.
Moving forward, I plan to have the students looking at each other's work and commenting feedback on one another's work. I look forward to helping them learn how to communicate online. I also look forward to encouraging the parents to participate more in the app and giving them suggestions on how they can prompt further thinking and questioning by commenting on their child's Seesaw journals. I am looking forward to building a bigger classroom community by welcoming and encouraging daily parent participation!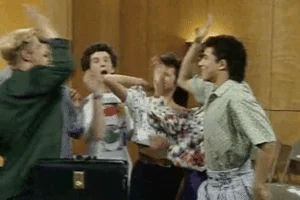 Gif Credit: Giphy
Thanks for stopping in!!